Welcome to the 3rd edition of Facebook Lovers Hop hosted by :
It's a great way to discover amazing blogs and make new Facebook friends.
Please Share this Hop as it helps spread the word and it means more followers for you
Follow the 3 hostesses (spot 1, 2 and 3) and the Spotlight of the week (spot 4) and leave us a comment so that we can follow back. If you are already a Facebook Fan, you can follow us on Twitter or GFC.

Add you Facebook page to the linky. You only need to add your URL once and it will show in all the other blogs.

Follow as many Facebook pages as you wish. Make sure to leave a comment on their wall so they can return the love.

Please consider following from your personal facebook page as Fan pages do not count.
We Have amazing giveaways!! Please check them (on the right side bar).
Blog Spotlight of the Week :
Style'n Décor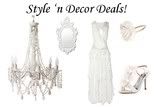 Style 'n Décor Deals is a blog site dedicated to finding "the best deals from head to toe to home." The blog is geared toward finding all the beauty and style a woman can have on and around her, for a lot less.